Client: Tourism East-Flanders
Create a single centralized platform that gives inspiration on the different provinces of East-Flanders. They wanted to find a balance between inspiration and conversion for tourists to explore the different provinces.
The current digital ecosystem consisted of 7 mini websites, each containing their own content and content management system.
This project started with an extensive research phase. Thanks to workshops and conversations with stakeholders it became clear that different regions and services of Tourism East-Flanders were unique, that they had their own branding and their own types of content. For example, the Flemish Ardennes are mostly known for their hiking and cycling possibilities, while 'het Waasland' is known for urban exploring.
Quickly we saw the that one global platform wouldn't be the solution for a better user experience. We decided that separate websites were the best way to go for the user, but that we would centralize the management of all websites in one (Drupal) CMS and that all websites would use for the majority the same components. A selection of super-admins are able to manage all websites at once.
As a next step we created a story map with all the functionalities structured logically and bundled in tasks and activities.
After that we created wireframes and a clickable prototype, which was tested with real potential users. We adjusted where needed, validated the final prototypes with all stakeholders and designed the websites based on the different visual identities of the regions.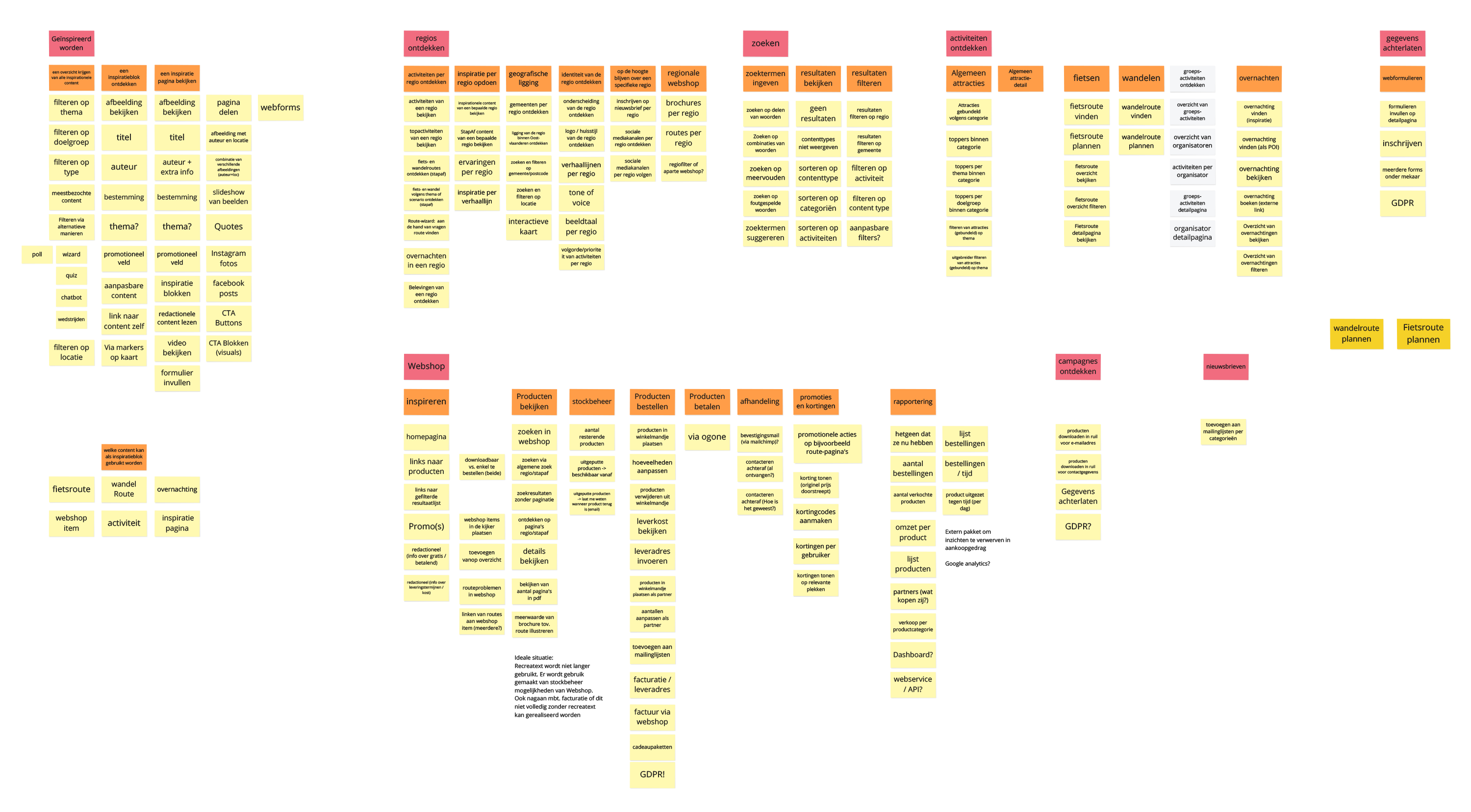 Inspiration vs practical information
The strategy for the new region websites was to focus on inspiration. The last version was merely a listing of the offering for tourism (hiking routes, cycling routes, hotels, ...). For the renewed websites, we transformed the way of bringing this information to the user by adding an extra layer of inspiration on top of the offering.
Now, the information is brought to the user in the form of inspirational articles that motivate them to further discover the offering. We decided to take all the practical information about hiking and cycling, which first was also hosted on the region websites, and move it to routen.be. routen.be became the one platform for all that practical information where we guide the users to from the region websites when they need that specific information. This way we also made sure the websites reinforced each other's SEO instead of being competitors.